loof751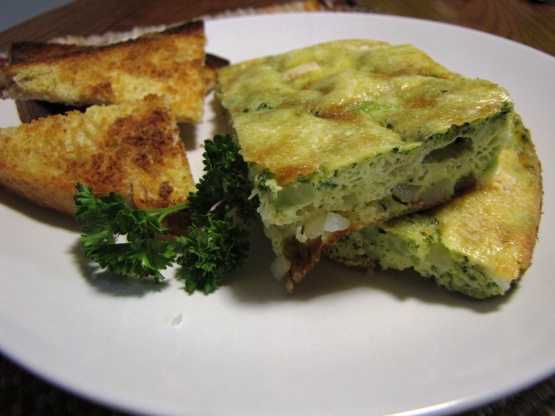 This was my introduction to the concept of the frittata, from a Light Cuisine cookbook of my mother's. I have used every combination from the 6 eggs and 2 egg whites, to 4 eggs and a cup of egg substitute, to 2 cups of egg substitute, all with success (though it's a bit tastier with a real egg or two included).

Meh. A bit too eggy, also needs more depth of flavor... Might try ginger and green chilis in there next time (?). Or maybe more complex herbs like herbs de Provence
Heat oil and butter in a wide non-stick frying pan over medium heat. Add onion and cook, stirring often, until onion begins to soften (about 3 minutes).
Stir in garlic, parsley, broccoli, and basil. Continue cooking, stirring often, until broccoli is bright green (about 3 minutes).
Remove from heat and stir in salt, pepper, and 2 tablespoons of the cheese.
In a large bowl, beat eggs and egg whites until well blended. Stir in broccoli mixture.
Spray a shallow 2 quart baking dish with cooking spray. Pour the broccoli mixture into the dish. Sprinkle evenly with the remaining Parmesan cheese.
Bake, uncovered, in a 350 degree oven until frittata is firm in center when touched (25 to 30 minutes).