Baked Brie Pastries With Artichoke and Prosciutto
eabeler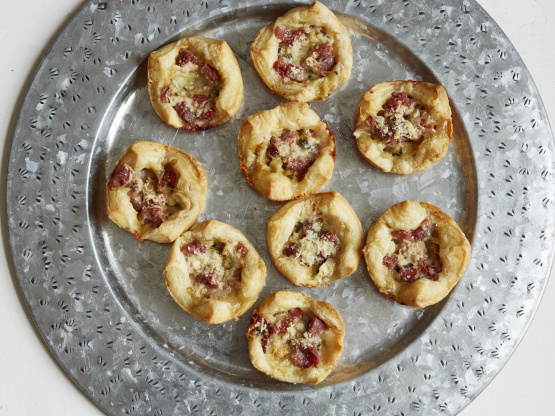 I needed an appetizer for a dinner last night, and had all these ingredients at home. These came out wonderfully well! Very tasty. :)

These were excellent and so easy! I have experimented with fillings - goat cheese I think goes even better than the brie and bacon pieces work when prosciutto is not handy . Will be making these again and again!
1

sheet puff pastry, cut into 9 squares (8 ounces, 1/2 package approx)

6

ounces brie cheese (without rind)

1

cup finely chopped marinated artichoke hearts

2

tablespoons chopped basil
1⁄4 teaspoon balsamic vinegar
1⁄4 teaspoon salt

3

dashes fresh ground pepper, to taste
1⁄2 cup chopped prosciutto, ends (1/2 cup chopped thick-cut proscuitto)
1⁄4 cup grated parmesan cheese
Preheat oven to 350 degrees F.
If you have frozen puff pastry, allow it to thaw.
Cut the sheet into 9 squares.
Push the squares into 9 of the spaces a lightly sprayed muffin tin.
In the food processor, whir enough artichoke hearts to make 1 cup of them when they are very finely chopped.
In a bowl, combine the artichoke, basil, vinegar, salt, and pepper.
Place about 3/4 to 1 teaspoon brie in the bottom of each puff pastry in the muffin tin (note: brie is much easier to cut when it is very cold).
Add about 1 1/2 teaspoon of the artichoke mixture on top of the brie (use up all of the mixture).
Top each with the chopped prosciutto and sprinkle with Parmesan.
Bake at 350 degrees F for about 15 minutes, or until the puff pastry is golden.
Let sit for about 5 minutes before serving (the brie will be *very* hot).
Makes 9 appetizers, about 6 servings since some people will have two.