Baked Brie and Red Pepper Jelly Wrapped in Phyllo Pastry
Bergy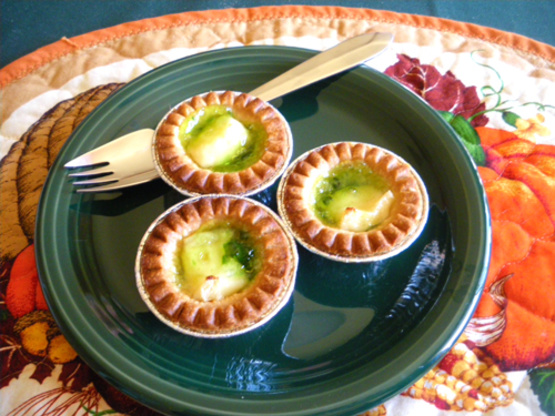 This is a nice twist to the traditional baked brie in puff pastry. I find that the phyllo lends to a more elegant presentation. Phyllo is not that tricky to work with - just keep the sheets that you aren't working with covered with plastic wrap and a damp towel. We traditionally use a 300 gram wheel of Triple Cream Brie, which converts to about .66 of a pound. Because of the size of the phyllo sheets (about 12" x 18"), you could likely use up to a pound of brie.
6

phyllo pastry sheets, thawed

78.07

ml butter, melted

340.19

g brie round, chilled (I use a triple cream brie)

59.14

ml red pepper jelly
Preheat oven to 350 degrees.
Place brie on flat surface and with sharp knife, slice Brie in half horizontally.
(This is much easier to do if Brie is nicely chilled first).
Spread red pepper jelly on bottom half of Brie and then replace top half of brie and set aside.
Using a pastry brush, brush butter on first sheet of phyllo, place a second sheet on top at roughly a 30 degree angle, brush with butter, place third sheet on top at roughly a 30 degree angle from the first, brush with butter and continue until all sheets have been used.
(The reason for placing the sheets on angles is that you'll end up with a larger surface which makes for easier wrapping and it also gives you a more interesting presentation as you bring all the sheets together).
Place Brie in centre of phyllo and gently pull all the sheets up and over the Brie, twisting closed at the top.
Arrange the sheets in the"twist" in various directions.
Brush entire package with melted butter.
Bake for 30-35 minutes.
Set aside for 5-10 minutes before serving.
Serve with crackers or thinly sliced baguette.