Baked Breaded Chicken Breasts
Pneuma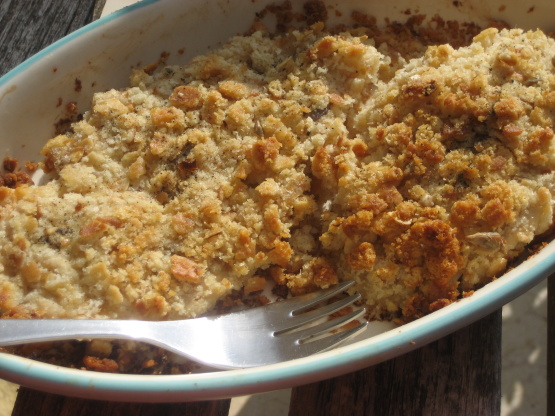 This recipe is easy, hearty, endlessly flexible and still impressive enough to serve to dinner guests.

Top Review by Pneuma
Preparing this was a bit different from the usual way of breading chicken which uses flour/ eggs /dried breadcrumbs so I was a bit unsure about the outcome. Neither did it really stick to the chicken that much but I forged ahead and continued this recipe. I pressed and pressed and when I finally got it out of the oven and tasted it, it's so crunchy good! The seeds sure improved the breading especially with the buttery taste...Oh, I omitted the parmesan but it's still great! Thanks for sharing! Made for Spring PAC 2009.
Preheat the oven to 190°C.
Grease an ovenproof dish (I use butter but I am sure olive oil could work).
Tear the bread into pieces and put it into a mixer, add the seeds and turn them into rough breadcrumbs.
Add the parmesan, pepper and lemon zest (if using).
Melt the butter.
Add the butter to the breadcrumb mixture and mix well.
Put the chicken breasts in the ovenproof dish and pat the breadcrumb mixture firmly down on top of them, covering all of the flesh.
Bake for 25-30 minutes.
Optional: Once the chicken is cooked take it from the dish and add the lemon juice to the pan, mix well and serve as a side-sauce. This is very strong and not everyone likes it but it works very well with veggies such as broccoli. Use sparingly!