Baked Blue Cheese Chicken
lmt425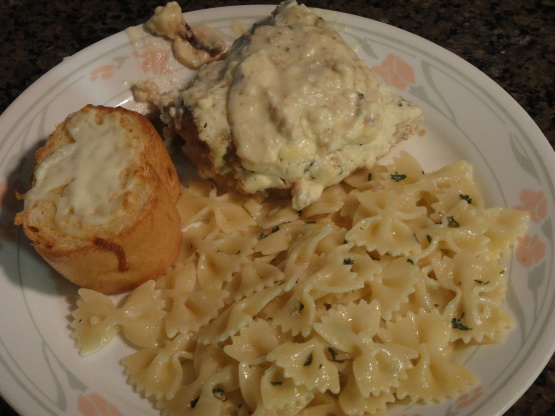 Excellent! If you like blue cheese you will love this dish. I make it often for just the family or dinner parties and everyone always comments on how good it is. I like to serve this chicken with baked potatoes or a rice dish and a green salad. Enjoy!

This was really, really good. I love blue cheese and would have never thought of doing a sauce like this for chicken. I made this exactly as the recipe directs and I served this with parsley buttered noodles and a green salad with a vinegarette dressing. We drank an Australian Shiraz with the meal and my friends raved about the entire thing. Thank you for an awesome recipe.
Mix together the blue cheese, sour cream and garlic; set aside.
Lightly salt chicken breasts.
Dredge each one in the flour, dip in the beaten egg, then roll in the bread crumbs.
Place the butter& oil in a non-stick skillet and heat over medium-high heat.
Brown chicken breasts on both sides then place in a lightly greased baking dish.
Pour the blue cheese mixture over the breasts.
Cover and bake in a preheated 350 degree oven for 45-60 mins or until chicken is tender.