Baked Beans With an Asian Flair
MsSally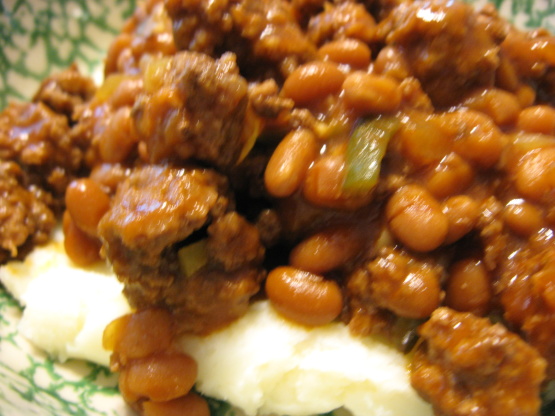 I needed to put together something for dinner, so combined several things, working off one of my already published recipes, and came up with this. The flavors worked well together. However, I actually used Stir Fry Sauce for the terikyaki sauce, and it was great!

Top Review by Steve1
I made this dish as just a baked bean side dish. Omitted the meat & biscuit topping. I used 1/2 the tomato sauce called for. I added 1/2 cup of small diced fresh ginger. It sounds like a lot but I made the beans!! Small dice added texture and lots of fresh ginger flavor. You must try it with fresh ginger! Next time I may drain some of the liquid that the beans come in, as it was saucier than I prefer.
Preheat oven to 425°F.
In an ovenproof skillet (cast iron works great), brown the ground turkey with the onions, garlic and green pepper until meat is no longer pink and veggies are soft. Drain any grease.
Add remaining ingredients, except for topping, and simmer gently, stirring occasionally for 10-15 minutes.
Combine the topping ingredients and spread over the meat and bean mixture in the skillet.
Bake for 20 minutes or until topping is golden brown.