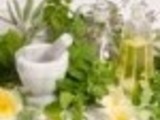 These are my baked beans I have been making for years.I just discovered how perfect they are baked in a clay pot. These are great to make and freeze in individual containers.
Directions
Soak beans in cold water overnight. Drain. Cover with fresh cold water. Heat to boiling point then simmer 30 minutes. Drain reserving 1½ Cups cooking water.
In medium bowl mix ketchup, mustard, brown sugar, salt, pepper and cooking water and add another 1/2 cup water.
In a clay pot,cast iron or crockery pot, layer 1/3 bacon slices,onions, beans and ketchup mixture.
Repeat ending with beans. Cover with remaining bacon slices. Put lid on pot and bake in a 250* oven for about 8 hours.
With clay cooker you put the pot in a cold oven; heat to 400*. After 30 minutes reduce heat to 300*.Cook for 3 hours; reduce heat to 250* for another 1/2 hour.
Serve with a boiled potatoes, ham, fresh bread and ketchup,.
Most Helpful
Great tasting baked beans! Awesome recipe. I did modify it a bit. Instead of navy beans, I used Ananzi beans and only 2 cups dried. I replaced the brown sugar with molasses. I'm always searching for new recipes to make in my clay pot. This recipe hit high marks for clay pot baking. I also upped the temp initially to 425 degrees then after 30 minutes, I lowered it to 300 degrees for 3 hours. The house smelled wonderful. We ate it all week and didn't have any to freeze. Clay pot cooking is the way to go especially roasted whole chicken. Now I have a great bean recipe. Its like having a mini-oven in your oven, no mess, no fuss. Its faster than a crock pot and the food comes out great, never had a failed recipe using a clay pot. But remember you must always soak the clay pot in water for 15 minutes. Thanks for sharing Sage!
Bacon with beans sounds delicious! The last time I tried a bean recipe in my clay pot turned super delicious. The clay pots cook the food evenly and taste soo good. Most importantly it holds all the nutrients in the food and look great in the kitchen. I got mine from mecware.US (online), they are un-glazed and no fear of metals or chemicals getting into our food.
I made these in the crockpot. And they were not good at all. I will not make these again. I hate to leave bad reviews but these did not turn out good.