Baked Beans (a Family Recipe from Chef Patrick O'connell)
Nimz1466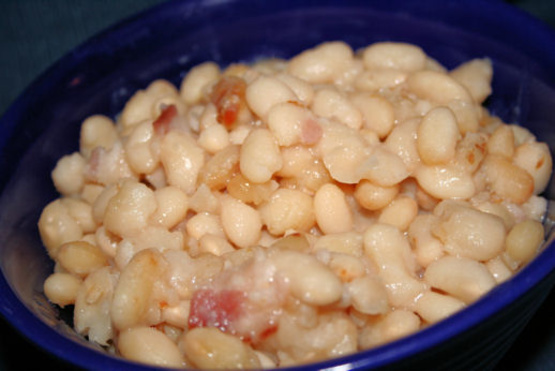 This recipe was passed down to Chef Patrick O'Connell from his Grandmother. Baking in an earthenware pot brings out the best flavor of this recipe. These beans may be served hot or at room temperature. Cooking time includes overnight soaking time.

Top Review by wthomp
My Mom made these beans for years. We add cut up Ham and some onions but Mom always used Brown Sugar....These are the only true baked beans.... all those with the tomatoes - you might as well just eat them outa a can from the grocery store... from Jean In Ohio
Place beans in a 2 quart saucepan & cover with cool water.
Soak overnight.
Drain the beans.
Cover with fresh salted water, and cook over medium heat until beans are just barely tender.
Preheat oven to 300 degrees.
Stir sugar and bacon into beans with water and place in an oven-proof earthenware crock or bean pot.
Top with butter and bake, uncovered, in oven for 3 hours.
If top layer of beans begins to become too dry or begins to burn, cover pot with aluminum foil.
Serves 4.