Bergy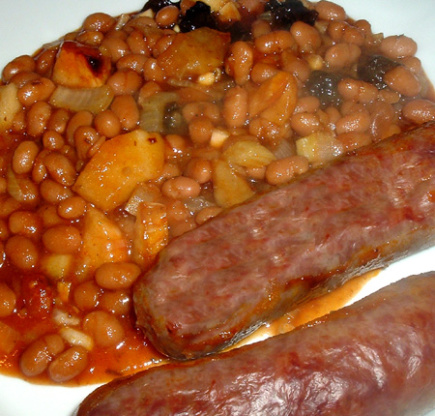 I adopted this recipe because it's almost exactly the way I make baked beans. I have been known to use a can of white beans with the pork n beans. I also add about 1 teaspoon of mustard to mine. I bake mine in a 350 degree oven uncovered until the bacon is crispy and the apples are tender.

Top Review by Bergy
I like to try recipes that have slightly different combinations of ingredients and this recipe caught my eye. I used a spicy BBQ sauce and instead of bacon I buried two bratwurst in the bean mixture. Baked it in a 350 Oven, uncovered for 45 minutes. I shoild point out that the bratwurst that I puchase at a local butcher have no fat in them so there is no grease to worry about while cooking Loved it thanks for posting Julie in TX
Drain pork and beans and place into oven-proof bowl.
Chop onion and apples and add to beans.
Also add Bar-B-Que sauce, brown sugar and rasins.
Mix together and lay bacon strips on top.
Place in covered grill and bake at 350 degrees for 1 to 1 1/2 hours.