KateL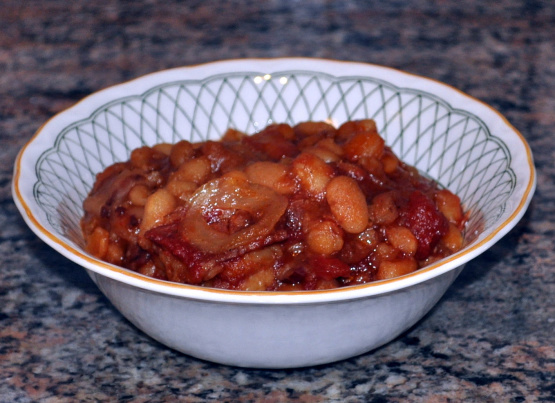 This is a recipe my mother made when we were kids. I don't know how old it is or where it came from. Delicious, comfort food with beans, bacon, brown sugar and tomatoes. I have also made this with canned beans.......use 4 or 5 cans beans, rinsed and drained instead. We always serve this with cornbread. I have put in the amount of brown sugar I usually use but you can either add more or less, depending on your personal taste.

Top Review by KateL
5/29/12 Review updated now that brown sugar has been quantified, I would continue to use 1 lb of dark brown sugar. DH said these were the best baked beans he had ever had. I used 1 pound of dark brown sugar; the result was sweet, but not cloying. There were no directions for cutting up the bacon, but next time I would probably cut in 2-3-inch lengths. Likewise, I would cut up the onion a bit more. I used canned Roma tomatoes; next time I might add a little more. I will try cooking my next batch in a crockpot to reduce the heat in the kitchen during our record hot weather. I, too, will make a batch to take to a July 4th party. Please advise me when the brown sugar quantity has been updated, so I can update my review. Made for 1-2-3 Hits tag game.
Look through the beans for any rocks or irregular looking beans and discard those. Put beans in large pot and rinse with cold water, then cover with cold water and cook till done. Drain.
Preheat oven to 325.
In medium sized bowl combine tomato paste and juice from the canned tomatoes. Set aside.
In bottom of greased Dutch oven layer half the cooked beans. Next cover that with half the onions and bacon. Sprinkle brown sugar over this generously. Repeat the layers ending with another generous sprinkling of brown sugar.
Top this with canned tomatoes that you have cut up or squished with your hand. Then top this with the reserved tomato paste mixture.
Cover the beans and bake for 2 to 3 hours.
Before you bake it the original recipe states that you can add a little syrup to the mixture but I never do this.