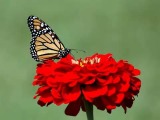 Recipe is from Trisha Yearwood/Food Network. I love baked beans, but have never used ground beef. This recipe sounds really good.
Directions
Preheat the oven to 350 degrees F. Spray a 9 x 13 inch casserole dish with cooking spray.
In a large saucepan, brown the ground beef, onions and bell peppers. Add the pork and beans, barbecue sauce, ketchup, mustard, worchestershire sauce, soy sauce, and brown sugar to the mixture. Simmer for 5 minutes. Transfer the mixture to the prepared casserole dish. Sprinkle the bacon over the top of the casserole. Cover the dish with foil and bake for 45 minutes. Remove the foil and continue to bake for an additional 10 minutes. Let the casserole stand for 10 minutes before serving.
Reviews
Most Helpful
Talk about comfort food, this was a first for us and we loved it!!! Can see I'll be making this again! Made the whole lot so we have yummy leftovers, even better for sitting!! Thank you Nancy, lovely recipe, enjoyed for International Agents of Quest, Southern USA

My DH and I loved this. We only had a green pepper so that is what we used. Definitely would make this again. Made for For your consideration game.

Wasn't pretty but, man, was it good! I loved the blend of sweet and savoury, and it came together in no time at all. Served to the kids sloppy joe style on toasted bread. This is going into my keeper file.