Baked Bananas with Chocolate
flower7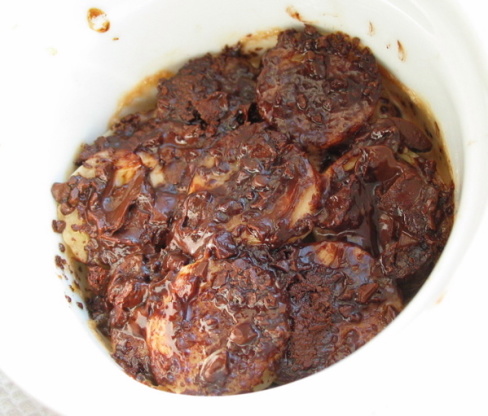 Recipe by Tebo
A really nice elegant way to finish off a good meal. Easily doubled. Well received by all who have tried it.
I made this for Zaar Chef Alphabet Soup Game (Feb '08 - Jan '09). I really liked this. It was very rich. You can only eat one. I know because I tried to eat my daughters after I finished mine. I would serve this to company in a heart beat. My husband and daughter didn't care for this as much. They are used to semi-sweet and milk chocolate. My son, the pickiest person in the family, loved the chocolate and he's never had bittersweet. Thanks for sharing a very easy but yet elegant dessert.
Divide half the bananas into two 1 cup ramekins.
Sprinkle half the chocolate over each.
Divide other half of banana and chocolate on top.
Stir together cream and vanilla.
Pour over mixture.
Bake in middle of oven@ 450 degrees for 10 minutes.