Rita1652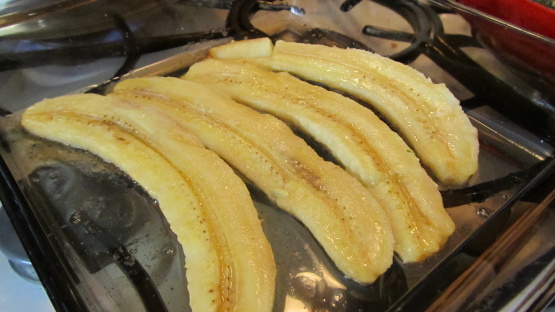 This recipe is from Guatemala. This is posted for the ZWT4.

I did something wrong when making these bananas. They had a nice honey flavor but a strong lemon flavor that didnt work to well for me. The bananas also turned black and mushy. Next time I will turn the bananas cut side down in the baking dish. Four stars for the flavor of the bananas and an easy recipe to make. I am sure the sour cream would be a wonderful addition. Made and reviewed for ZWT 4.
Peel the bananas and cut them in half, lengthwise.
Turn the oven to 350 degrees F and grease a baking dish.
Arrange bananas halves in the dish, dot with butter.
Spread honey and lemon juice over the bananas.
Bake for 15 minutes.
Put the sour cream into a bowl and serve it with your baked bananas.