Baked Banana Stuffed French Toast
AmyMCGS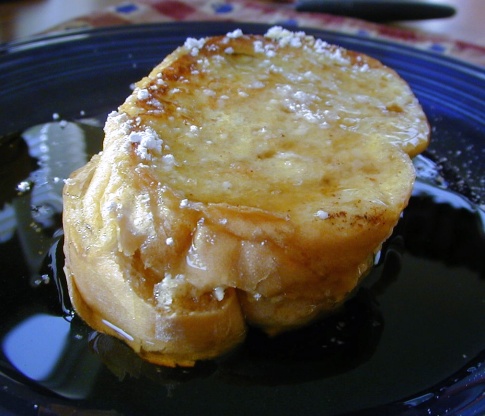 I got this out of Bon Appetit magazine and it is just fabulous!They got it from Peaks Resort and Spa, in Telluride, Colorado. Cook it for a treat. My kids liked it too! Who knew?

This has to be the best recipe that I've tried all week and I've tried a lot of good ones. It makes four servings and I got four raves on it. Thanks for posting this one. I'll not only be making this again, I'll be passing it on to others. Wonderful taste. I wonder though, I love PB & Banana sandwiches, how about some peanut butter on one slice?! May have to try that next time. Thanks again. REALLY glad I tagged you in Zaar Tag.
Preheat oven to 350°F.
Place 4 pieces of banana on each of 4 bread slices; mash banana on bread.
Top with remaining 4 bread slices.
Whisk milk, eggs, vanilla extract and cinnamon in glass pie dish.
Working in batches, dip bread in egg mixture; let soak 45 seconds on each side.
Spray large nonstick skillet with vegetable oil spray.
Heat over medium heat.
Working in batches, add French toast to skillet and cook until golden, about 2 minutes per side.
Transfer to baking sheet; bake 8 minutes Put on plates.
Dust with powdered sugar.
Garnish with strawberries.
Serve with maple syrup, if desired.