Baked Baja Beef Chimichangas
GaylaJ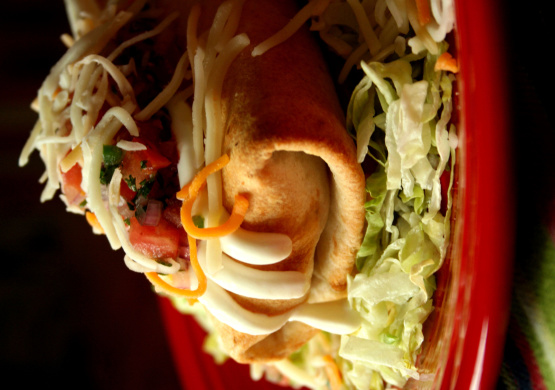 This is an authentic 40 year-old recipe, and the filling will not taste the same as fast food style chimichangas. The only thing Americanized here is that the chimichangas are baked instead of fried. Caution: If you use leanest ground beef, the filling will seem dry. Serve lots of lettuce, tomatoes and other garnishes listed below with each chimichanga - they are important to this dish's all around flavors and textures.

This is soooooo good! I did cook the garlic in the meat towards the very end. I also added a little picante sauce, just to make it a little more saucy. I only added a little so I don't think it made much of a difference so I won't do that again. Added some cheese to the inside then also some on the top after they came out.
These were very simple and quick to make, I had dinner done in about 30 mins.
I have 6 kids and some very picky eaters and everyone of them ate all of their serving and came back asking for more.
We will be making these again that is for sure!
Wrap tortillas in foil and warm in a 300* oven while making the filling.
Brown ground beef and drain.
Mix in vinegar and seasonings to the drained meat, but do not cook the mixture further.
Remove tortillas from oven and increase oven temperature to 500*.
Brush each side of tortilla with melted butter.
Spoon about 1/4 cup ground beef filling onto center of each buttered tortilla.
Fold in sides, then roll up tortilla from the bottom.
Place seam-side down on a foil-lined and rimmed baking sheet.
Bake at 500* for 8-10 minutes, until golden brown.
Serve on a large bed of shredded lettuce and chopped tomatoes.
Top with sour cream, shredded cheese, and salsa.