Baked Bacalhau / Salted Cod
Rita1652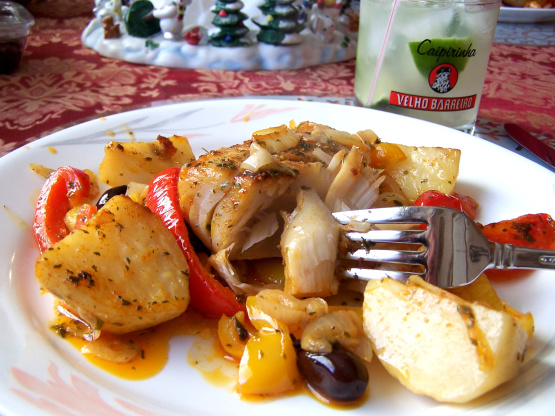 I order this in our favorite Portuguese restaurant. I didn't see any on zaar close to what we enjoy. Bacalhau is a staple of the Portuguese cuisine. This dish has sliced garlic, onions, peppers, potatoes and olives made with lots of olive oil. I used red, yellow and red bell peppers for vibrant color and sweetness but if you prefer green go for it.
Preheat oven to 375 degrees.
Place potatoes in a large pot of water bring to a boil, and cook for 5 minutes and remove placing on towels to air dry.
Drizzle 1/4 cup olive oil in a large heavy bottom pan Saute garlic for 30 seconds and stir in potatoes, then sliced onions and peppers.
Mix salt pepper, parsley and paprika together.
Season the vegetables with 3/4 of the mix.
Season the cod with the remaining spice mix.
Nestle the cod in between the vegetable mix.
Drizzle with Olive oil and add white wine.
Place in the oven and cook for 30 minutes or until its all cooked through.
Toss the mixture every once or twice so that all flavours get incorporated.
Raise oven to 425. Toss and top with olives baking for 10 more minutes.
Enjoy!