Baked Asparagus With Lemon Dressing
Nimz1466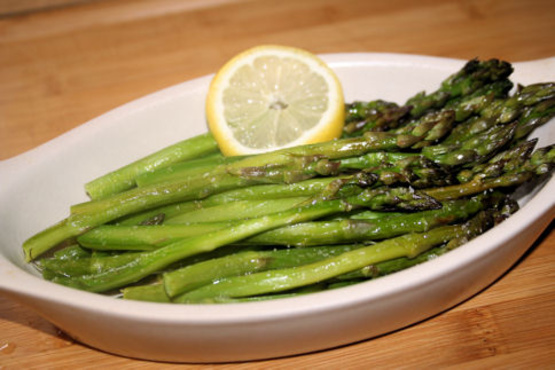 Yummy alternative way to serve asparagus. Lukily all 4 of my kids love it!

This was very nice. The bunch that I bought was only about 8 oz of asparagus. I used 1 tablespoon of olive oil to coat the asparagus and about 2 tablespoons to mix with the lemon juice. I can't imagine using a full cup of olive oil. Your bunch must be much larger than what we get here. But simple enough to alter with the amount you are going to serve. Thanks for sharing. Made for PAC Spring 09
Preheat oven to 400 degrees.
Lightly coat asparagus with 2 tablespoons oil and salt and pepper.
Bake for 10 minutes.
Whisk together remaining 1 cup oil and the lemon juice.
Add salt and pepper to taste.
Remove asparagus from oven, and set on serving platter and drizzle with dressing.