Parsley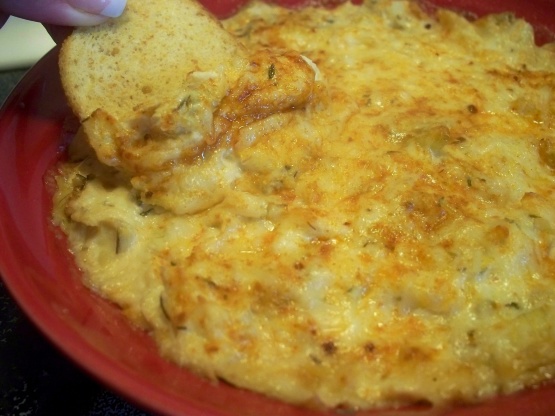 This recipe came from Bon Appetit. A nice variation of Artichoke Dip plus it is a little lighter.

Five stars for ease of preperation and terrific taste! I used fresh minced onion in place of onion salt, otherwise I made this just as written. We used pita chips and veggies for dippers. Perfect sort of "elegant" dip to whip up for last-minute guests....especially at holiday times! Thanx for posting; this dip is a keeper!
Whisk 4 tablespoons grated Romano cheese, light mayonnaise, light sour cream, dried marjoram, black pepper, onion salt, and garlic powder in a medium bowl to blend.
Stir in chopped artichoke hears.
Transfer mixture to a 1 1/2 cup Ramekin. (Can be prepared 1 day ahead. Cover mixture and refrigerate.).
Preheat oven to 375°F
Bake dip until heated through, about 20 minutes (about 30 minutes if chilled).
Preheat broiler.
Sprinkle dip with remaining 1 tablespoon Romano cheese and paprika.
Broil until cheese melts, about 2 minutes.
Serve warm with toasted baguette slices.