Baked Apple With Cranberries
Bergy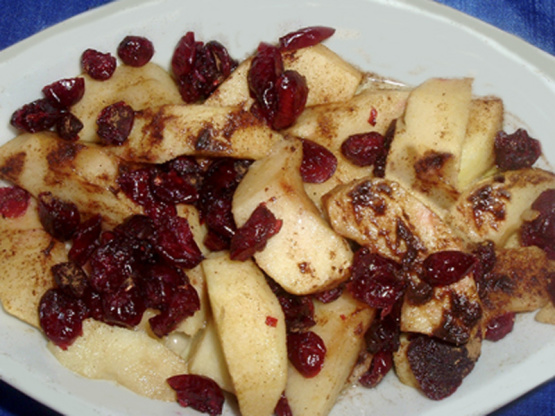 I had this for breakfast this morning. My internet was off and I couldn't look up baked apples so I made this one up. I enjoyed it so I thought I would post it. I used brown sugar substitute, but you can used regular brown sugar. I kept it low in both sweet and butter but you can add more if you want. I baked it in a toaster oven at 350°F for 30 minutes. If you use sweetened cranberries, I would cut back on the sugar. Substitute margarine for butter and this is a vegetarian recipe.

I made this entirely in the microwave as a last minute descision and served with waffles. I liked it as it was diabetic friendly with only 1 T of brown sugar and the fruit is the star of the show. To your recipe I threw in a partial can of pears I had in the fridge. It took approx 8 minutes in the microwave. Very nice Bergy. DH raved!!
Place all the ingredients in an ovenproof dish, stir to mix.
Cover with foil and bake in 350°F oven for 30 minutes.