mnaz4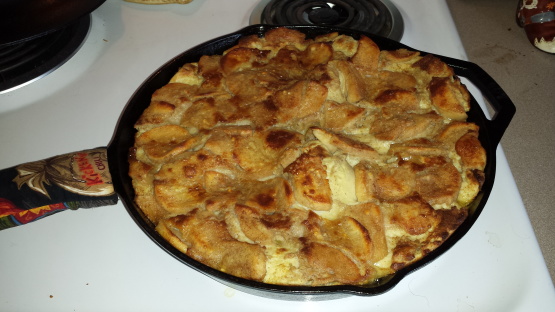 Sunday at Bickford's in the Boston area was a regular to enjoy their Baked Apple Pancake. Now a resident of Miami Beach, I couldn't find anything like it, therefore, I created this one. For success you must use a 7"-10" cast iron skillet..
I was manager at Bickfords before a step I see a few things that were done differently. If you know you are going to be cooking this, prepare the apples the night before with cinnamon and sugar. When they are baked in the restaurant they are flipped 3/4 of the way through. Before flipping sprinkle some cinnamon sugar and that helps form a glaze. Press it down lightly with a the spatula. This also allows for the crispy bottom. When serving you flip it back onto the plate. This does take a little skill so it may be why so many omit, but it allows it to rise more. Make sure the pancake is fully cooked on the bottom before flipping. It is a little more work and is tricky but it will make that much better. Hope this helps.
Preheat oven to 425 degrees. Beat eggs until light and fluffy in a medium size bowl.
Add milk, vanilla and a few dashes of cinnamon.
Add flour and beat for 30 seconds into a light batter.
Set aside.
Mix together the sugar and cinnamon.
Melt butter in skillet then add sugar mixture.
Immediately add sliced apples stirring to coat evenly.
Cook apples 3 minutes on medium heat, stirring to coat.
Remove from heat and pour in egg batter, arranging the apples evenly on top.
Sprinkle with a little more cinnamon.
Bake in a 425 degree oven for 13-15 minutes (it will puff up).
Remove from oven and sprinkle with powdered sugar.
Cut into 4 wedges and serve hot with lemon wedges and butter, or with maple syrup (or both).