Baked " Apple Oatmeal Raisin Cookie" Oatmeal
diner524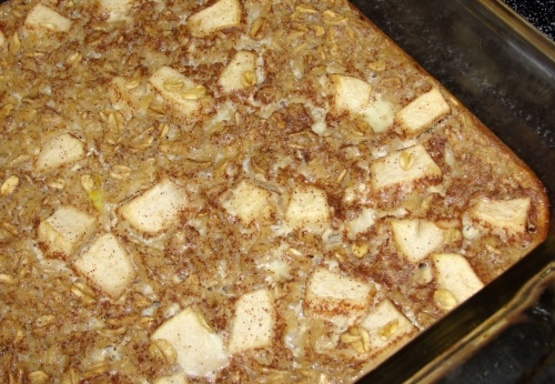 For years I never ate oatmeal due to the "mushy" texture. After seeing a baked oatmeal prepared on FoodNetwork, it inspired me to come up with a few baked oatmeal recipes inspired by some popular baked goods. This oatmeal has a much more firm texture. Check out my recipes for Baked " Cranberry Nut Bread" Oatmeal and Baked " Banana Bread" Oatmeal.
This was a great breakfast, loved the added apple and cinnamon!! Made this for DH, DS and myself and made the whole amount in a 8 X 8 pan that cooked for 50 mins. I didn't add the raisins, just forgot, nor the pecans due to DH and DS's preferences, but otherwise followed as written. Although we loved the added flavors we weren't as crazy about the texture or time to make it. I had never tried a baked oatmeal so it intrigued me, but guess we are just too used to the normal mushy texture, lol!! Thanks for sharing the recipe and will experiment with these ingredients but for a stovetop method. Made for Holiday Tag.
Preheat oven to 350°F.
In large bowl, combine oats, brown sugar, cinnamon, nutmeg and salt.
In small bowl, whisk together milk, egg and vanilla. Add the milk mixture to the oat mixture and stir until combined.
Stir in the apples, raisins and chopped nuts.
Pour into 4-6 small souffle or brulee dishes or one larger baking dish (such as an 8x8-inch dish). (You may want to lightly spray baking dish with cooking spray.).
Bake 20-30 minutes (small baking dishes) or 30-40 minutes (large baking dish), or until slightly firm to touch. (Baking time will vary depending on the diameter of your baking dishes.).
Sprinkle with sugar (optional: use torch to create a brulee topping). Garnish with toasted pecans.