lazyme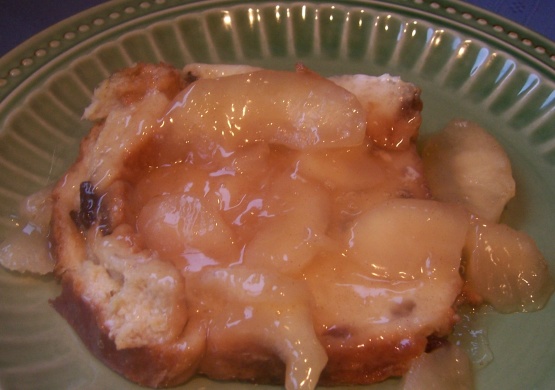 I found this recipe at my mother in law's house. You can try other flavors of pie filling like blueberry but apple is the favorite at our house.
This is a wonderful recipe,simple and yummy!!! Just what you need when you're trying to satisfy grumpy teens who are groggy from a sleepover. Everyone loves warm apples and sweet bread--even those who usually don't like eggs, like this dish. I did double the apple filling, add another egg, and poured a tad more milk and vanilla (guess I let the bread soak too long). Some guests like extra like a little more sweetness than others, so I offer warm maple syrup. I like making this dish at night and cooking in the a.m. I'm usually more grumpy than the teens and really appreciate the ease of slipping the already-prepared mixture in the oven.
1

(21 ounce) can apple pie filling

3

eggs

1

cup milk

1

teaspoon vanilla

10

slices day-old French bread or 8 slices day old cinnamon raisin bread, about 1/2 inch thick

2

tablespoons butter, melted

1

tablespoon sugar
1⁄8 teaspoon ground cinnamon
Grease a 9 x 13 baking dish.
Spread pie filling in dish.
In a pie plate, beat the eggs, milk and vanilla.
Dip bread slices into the egg mixture for about a minute per slice, turning once.
Arrange 2 rows of bread on top of pie filing overlapping slices slightly.
Mix cinnamon and sugar.
Brush bread with melted butter and sprinkle with sugar mixture.
At this point, the dish may be refrigerated overnight, if needed.
Preheat oven to 350°.
Bake dish uncovered for 30-35 minutes or until slightly browned.
Serve fruit side up.