Baked Apple Doughnuts for Abm
Bayhill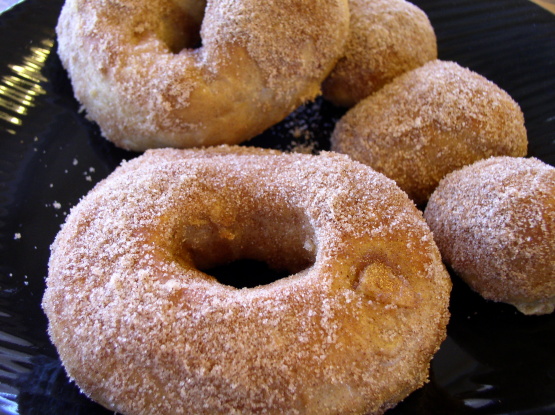 These are the real deal, not muffins. Adapted from the Scribbit website. Posted by request.

Top Review by Katzen
So delicious! I took the preview reviewer's comments, and used 2 apples, chopped into chunks, which I added to the dough after the dough cycle. They're hard to keep in the dough, so I ended up poking them in, which worked quite well. Done this way, these little gems yielded chunks of warm, soft apples, surrounded by a slightly dense dough, swaddled in melted butter and cinnamon-sugar. Great way to get my apple doughnut fix without being deep fried! Thanks for posting, Chocolatl - I've had my eye on this recipe for a while! Recipenapped for Veggie Swap 22.
Combine all ingredients except cinnamon sugar and melted butter in the order recommended by your bread machine manufacturer.
Start dough cycle.
When dough cycle is finished, remove dough from machine.
Divide into 14 pieces and shape into donuts (or pat out and use cutters).
Place on a baking sheet and let rise 30 minutes.
Meanwhile, preheat oven to 350°F.
Bake for 15-20 minutes or until browned. and done.
Immediately brush each doughnut with butter and dip in cinnamon sugar.
To make without a bread machine:.
Heat the milk to 110-115 degrees.
Pour on top of the brown sugar and yeast, and let it sit for 5-10min.
Add oil, egg and apple.
Stir flour, salt and spices together and stir into yeast mixture.
Turn out onto a floured surface and knead until smooth and elastic, about 10 minutes.
Cover the dough and let it rise in a warm place until doubled.
Punch down the dough, and roll it out 1/2 inch thick.
Cut into doughnut shapes.
Transfer doughnuts to a baking sheet.
Wait to cut out the "hole" until you have transferred the doughnut to the baking sheet.
Bake as above.