Baked Acorn Squash With Mustard and Honey
Bergy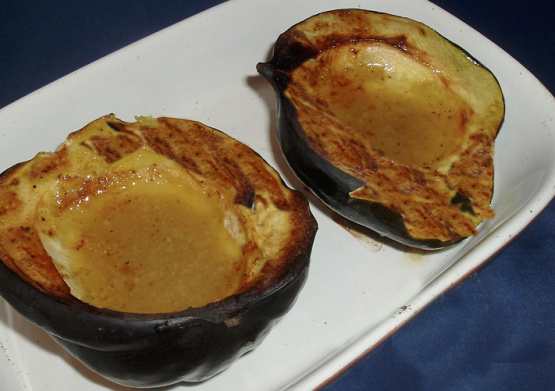 There are only 4 ingredients in this recipe (well, 6 if you count the salt & pepper)n but this recipe is a hit with everyone--an easy, tasty, addition to a weeknight meal. Just be careful cutting the squash. Recipe comes courtesy Sara Moulton of the Food Network.

Top Review by Bergy
I enjoy squash and Barb your recipe did not let me down. Great combination of flavors. Next time I will cover the squash for the first half hour of baking and uncover for the last 45 minutes. I basted the edges of the squash for the last half hour to get them browned Thankd - I'll enjoy this one again
Preheat oven to 375°F; cut squash in half,trim a piece off of bottom of each squash half so they will lie flat in pan.
Mix butter, mustard, and honey in a small bowl until blended; Fill each cavity with 2 tablespoons of the butter mixture; Season with salt and pepper.
Bake until the squash is very tender,1 1/2 to 2 hours; NOTE Any left over cooked squash can pureed and used in soup by adding vegetables or chicken stock etc.