Prep 10 mins
Cook 50 mins

A simple easy dish for company. This recipe is for 1 squash, but you can multiply for the number of guests you are having. Serve 1/2 squash per person.
Directions
Cut the squash in half and remove seeds and strings.
Place in oven proof dish (large enough to hold all you are preparing if you are multiplying this recipe) skin side down and pour 2" water in dish.
Bake for 40 minutes on 350°F.
Remove and fill each cavity with the brown sugar and butter.
Salt and Pepper.
Return to oven for 10 minutes.
Most Helpful
Pretty basic recipe and easy to make. My husband was in heaven, I thought it needed just a little more something for flavor..orange juice, vanilla..I'm not sure. I'll keep experimenting. Thanks.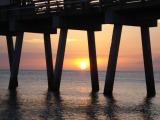 This is the same basic way I make acorn squash. My recipe uses only 1 tsp brown sugar and doesn't have pepper. It also has you bake the squash cut side down for 35 minutes, flip them over and spoon the sugar/butter mixture over the edges...letting some spill into the cavity, and broil for 5 minutes or until lightly browned. I doubt the end result is much different between the two recipes, so I'm rating this one instead of posting my own.

This is the way I've always prepared acorn squash and still my favorite! Sometimes simple is best. I will admit, though, that I've never measured anything, just put in what looks right! Tasty!