Bake Exchange Butter Tart Bars
Pamela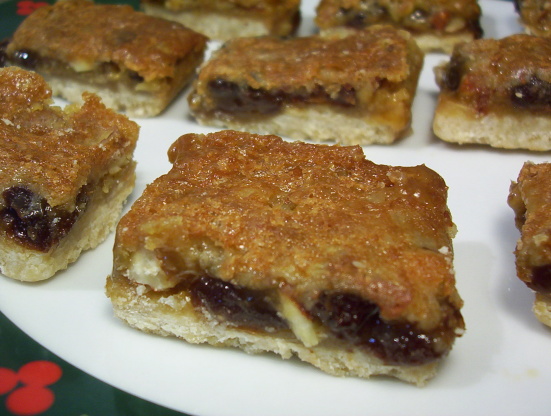 I received these from Pamela's annual baking exchange and thought that I'd share the recipe.

Wow, I am thrilled to make these myself rather than buying store-made butter tarts/bars. I used a smaller (8x8) pan, so I baked them for 28 minutes. We don't like raisins, so I omitted them, but otherwise followed the recipe exactly, and they turned out sublime. "Bake Exchange" is an appropriate name: They are impressive and worthy of any family event or pot-luck function. Will certainly be making again!
BOTTOM LAYER.
Crumble all 3 ingredients together in a bowl.
Press into ungreased 9x9" pan.
Bake at 350°F for 15 minutes.
SECOND LAYER.
Mix eggs and brown sugar with spoon.
Add the rest of the ingredients.
Stir and spread over bottom layer.
Bake at 350°F for 20 minutes or until light brown.