Bakari's Cabbage (How I Remember It)
PaulaG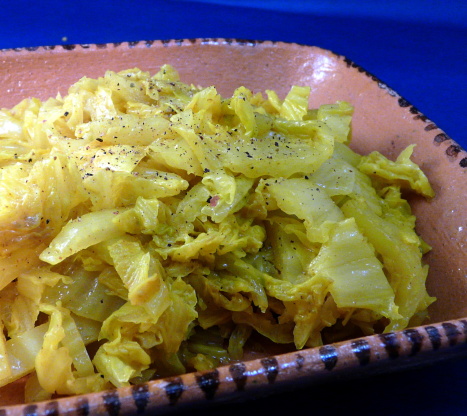 I once had a friend in town whose husband is from Tanzania. This is one of the sides that was served with some coconut fish one evening I was over for dinner. Poor little me had only had boiled cabbage growing up. I couldn't get enough of this! Now that I am more knowledgeable, I know this is just a variation on braising cabbage. Bakari told me it is very important to slice the cabbage thin. I can't remember if his had garlic in it but I usually add it.

I am not giving this stars right now because I didn't make it as written. I made this for the ZWT 4-Africa Spice It Up In Africa Challenge. I didn't have any turmeric do I subbed it with a spice blend I came up with myself. I used cardamom powder curry powder, cinnamon and ginger powder. I am sure it changed the outcome a bit. It more or less made it my recipe. There for it would not be fair to to the chef. It was very good. I love cabbage, so once I get some turmeric, I will make it again as written and review it again, giving it a fair rating. Thanks for sharing your recipe!! Update!! Originally I made this recipe June 25th. Updated July 20th. I have made this recipe 2 times since the ZWT Challenge.. Both times I did it as written It is very good!! It is very good!! Last night my neighbors came over for dinner. I made this and they loved it too!! Thanks for sharing your recipe. I will definitely be making it again.!
Heat large skillet to medium-high heat and add oil and butter.
Add cabbage and stir until it wilts slightly. Add garlic, salt, pepper, and turmeric.
Add chicken stock and bring to a boil.
Cover and let simmer for 5 minutes.
Take off lid and let cook until most of the liquid is gone.