Bak Ku Teh (Pork Rib Tea Soup)
Peter J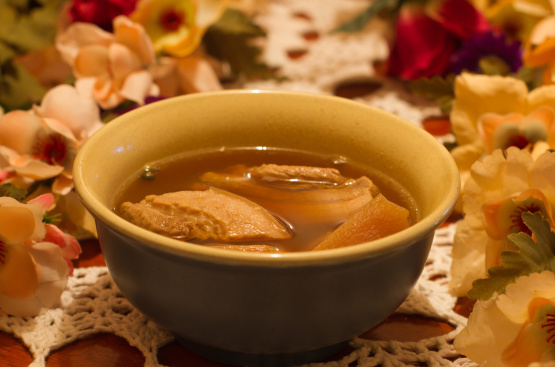 Found online; posting for ZWT6 (Asia/Singapore).

Beautiful! Perfect blend of flavors and we loved the combination of pork and star anise which are the stars of the dish. Due to local availability the only change I made was to use spare ribs instead of back ribs. I served rice on the side as suggested but didn't bother with the optional dipping sauce, after tasting there was plenty of flavor in the soup so in my opinion it didn't anything else to make a wonderful meal.
Combine the pork, garlic, and water in a large saucepan; bring to a boil and cook for 5 minutes.
Skim and discard the scum from the surface. Add the cinnamon, star anise, peppercorns, sugar, salt, and soy sauce.
Reduce the heat to low and simmer until the pork is tender, about 45 minutes. Discard the excess fat from the soup before serving.
Serve the soup in deep bowls with 3 to 4 rib pieces per serving.
Combine soy sauce and chiles to taste in small bowls as a dipping sauce for the ribs. Serve bowl of rice on the side.