Mgnbos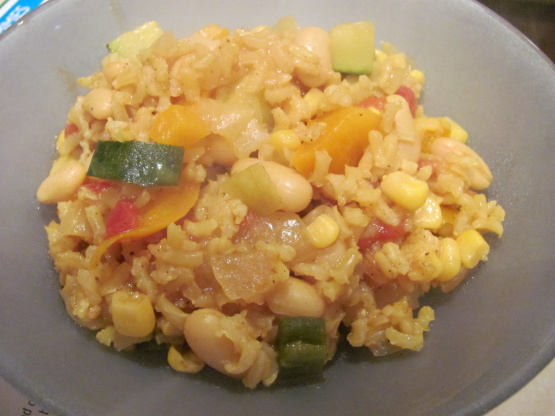 A wonderful and healthful combination of beans, rice and vegetables. It's also very pretty, vegetarian, Caribbean and low-fat. It has a meaty texture and MILD curry flavor. My boyfriend, who is not fond of curry dishes, loved this. If you don't want any peppers left over, you could just add a whole red or orange pepper for color. Flageolet beans are a bit on the expensive side, so buy cannellini if you'd like to save money. Adding tofu, a meat substitute or cooked meat would make this a more substantial one-dish meal.

The great thing about this recipe is you can tweak it to your liking. I used instant white rice to cut way down on cook time. Didn't have a jap pepper so added extra chili powder and crushed red to spice it up a bit, as well as a lot more curry powder. Used much less vegetable stock because of the instant rice and used garbanzo beans because it's all I had. Worked out great. The rice makes it filling enough for a meal in itself. Nice recipe
1

tablespoon vegetable oil

1

onion, chopped

1

green chili peppers or 1 jalapeno, deseeded and chopped

2

teaspoons curry powder

2

cups vegetable broth

4

ounces brown rice

7

ounces tomatoes, canned chopped

2

zucchini, chopped
1⁄2 red bell pepper, chopped
1⁄2 green bell pepper, chopped

14

ounces cannellini beans or 14 ounces flageolet beans, canned, drained and rinsed

5

ounces sweet corn, canned (or equivalent frozen)

2

tablespoons cilantro, freshly chopped
Heat the oil in a saucepan and add onion, chili and curry powder and saute until soft.
Add rice, tomatoes and stock, mix well and bring to a boil. Reduce heat, cover and simmer for 25 minutes, stirring occasionally.
Add the zucchini and bell peppers to the pan but don't stir them in yet. Cover and cook for another 30 minutes, stirring 2 or 3 times.
Add the rinsed beans and corn. Mix well and cook gently for about 5-10 minutes.
Stir in the cilantro and serve immediately.