Rita1652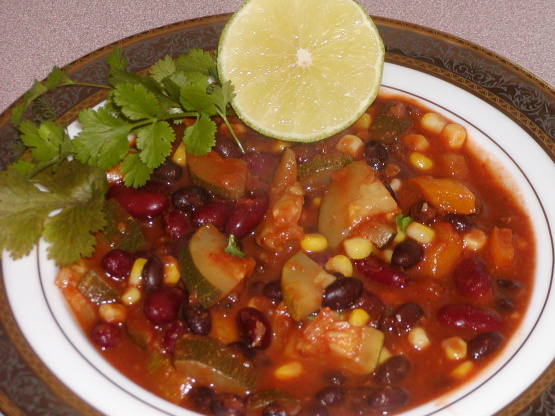 From the Ellsworth Cooking School in Ellsworth, Maine.

Used chipotles instead of chilis. My husband and I loved this. Too hot for my son. Great complexity of flavor for a relatively simple dish to prepare. The cilantro and avocado topping were a great addition. Superb meatless dish. Bravo!
In a skillet, roast chilies for 20-30 seconds over high heat.
Remove from heat and let cool.
In a large pot, heat 2 tsp olive oil over medium-high heat and sautee onions until golden.
Add garlic and cumin and cook, stirring constantly for about 30 seconds.
Add tomatoes, broth and chilies.
Reduce heat and simmer for 30 minutes, stirring occasionally.
In batches in a blender or with a stick blender, puree the soup.
Pour through a fine sieve, cheesecloth or food mill, if desired.
In a skillet, heat 2 tsp olive oil over medium-high heat.
Add bell peppers, zucchini and corn.
Season with salt and pepper and cook until tender- about 4 minutes.
Add to broth mixture with the black beans and kidney beans.
Simmer for 1-2 minutes, until vegetables are tender.
Stir in the vingegar and garnish with cilantro, lime wedges and avacado.