Parsley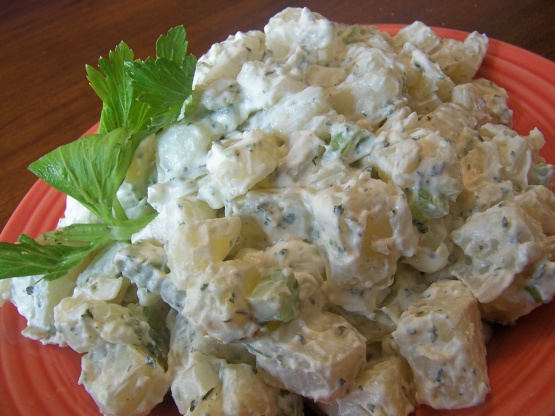 This is a zesty potato salad that is a nice change of pace. It is great with a grilled steak! Recipe can be doubled and the seasonings can be adjusted to your taste.
Absolutely phenomenal salad! Jalapeño, cilantro and cream cheese. I did add a little cumin, as well. I am trying to eat less carbs and have figured that I can successfully sub potatoes in salads with boiled eggs and did so here as well. 10 boiled eggs worked just perfect. I have no doubts this is just as good with the taters.
Peel and dice potatoes into cubes, boil until fork tender.
Mix together potatoes, celery, onion, green chilies, and cilantro.
Set aside.
In a separate bowl, mix cream cheese with jalapeños.
Fold cream cheese mixture into the potato mixture.
Add salt, pepper, and garlic powder.
Chill before serving.