Baingan Bharta- Indian Style Fire Roasted Eggplants
udita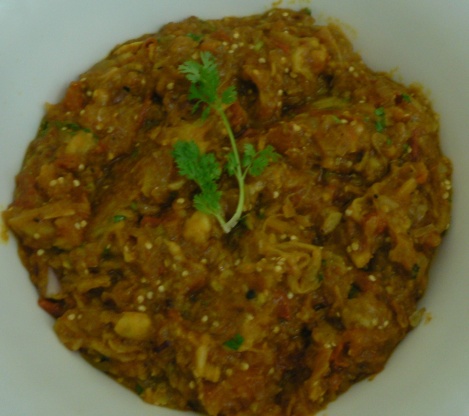 Baingan Bharta is a favorite North Indian curry made by first roasting the eggplants until very soft. The flesh is scraped from the skin and cooked with tomatoes, onions, garlic, fresh and dried coriander, turmeric, and other spices until thickened and richly flavored.
Delish! I made it more-or-less as written, but also added 1 t. mustard powder, less cayenne, and more cilantro. After I cooked it, it was "good" but not "great", - and I realized I had used probably over double the eggplant the recipe called for (1 1/3 large globe eggplants) and so I just added more of the easy (dry) seasonings, and it came out terrific. So I estimate the recipe, as written, to be spot-on, and will use it in the future.
Prick eggplants and roast them over open flame or in a tandoor/preheated oven until the skin scorches and starts peeling off.
The sure shot way to check if the eggplants are done is to pierce them with the back of a spoon, if it enters the brinjal like soft butter then they are done.
When at room temperature remove the skin and mash the pulp.
Chop the onions, tomatoes and green chilli.
Heat oil(preferably mustard oil) in a kadahi(wok) and add chopped onions. Sauté until they are pink. Do not brown them.Then add chopped ginger, garlic, chopped green chilli and stir.
After about 1/2 a minute add the tomatoes and the salt(adding salt with the tomatoes softens the tomatoes faster and thus makes cooking easier)When the tomatoes are done(oil seperates from them)add all the powders except for the garam masala powder and cook for another 1/2 a minute.
Now add the mashed brinjals. After this point not much cooking is required. Cook for about 1/2 to 1 minute and finally add the garam masala and chopped corriander leaves.
Serve immediately with roti, paraatha, naan, pitta bread, or even on a toast! We love it on a crunchy toast - irresistable, I tell you!