Bailey's Irish Cream Fruit Dip
This is a delicious twist on fruit dip. Different from the regular cream cheese based dips, this is lighter and creamier. Serve with fresh fruit slices and squares of pound cake or angel food cake. Hope you enjoy!
Directions
Whip all ingredients together.
Can be served immediately or chilled.
Most Helpful
Okay, I substituted low fat Greek yogurt for the milk and vanilla pudding, and it made no difference whatsoever, except probably made it even more healthy. EVERYONE LOVED it. I took it (along with some fruit kebabs) to lunch with a bunch of old friends and family. They ate up all the dip, but not all the fruit. Heh heh. What a hit! Thanks Leslie!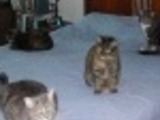 I made this for St. Patrick's day and I got great reviews. People were dipping everything from the fruit to the soda bread to regular tortilla chips. EVERYONE wanted the recipe!
Delicious fruit dip. I made this for our game day party and it was well recieved. I served this with strawberries, pineapple, grapes, bananas and pound cake. Thank you for sharing this with us.