Baileys Irish Cream Chocolate Chip Cheesecake
Thorsten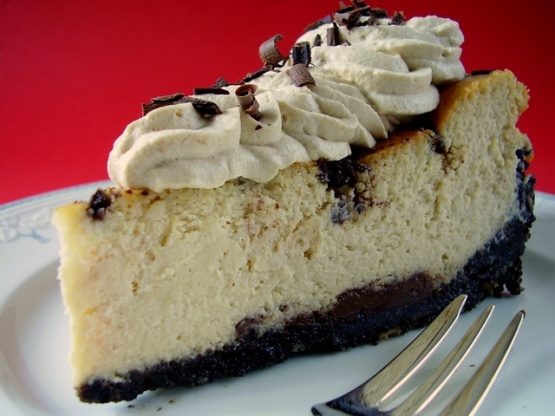 This is a decadent, moist cheesecake that never fails. I got the recipe from my sister-in-law who brings it to every family function. There are never any leftovers! *This cheesecake needs to be made and refrigerated one day in advance. Hope you enjoy!

I fall in love with this cake! Is it decadent? Sure it is! Can it fail? Never! I couldn't stop eating. It was sooo good and with every bite it get better and better. The crust is really easy to make as well as the filling is. First I thought it might be to much Bailey's in it, but do NOT reduce the amount. While the cake was in the oven a mouthwatering smell was in the air. I placed it in the fridge for one day. For the topping I left out the butter and replaced it by 1 teaspoon sugar to make it a coffee flavored whipped cream. I would suggest to make the topping before serving and to decorate the cake with it just before serving. I used a more bitter-flavored chocolate which adds a nice contrast to the sweetness of the cake. The cake itself was firm but with a delicate moisture. The chcocolate chips add a crunchy moment and were sweet with some bitter cacao notes. Wonderful. I could spend hours and hours on describing this wonderful and decadent cheese cake, but a description is a very weak substitute for an overhelming enjoyment of tasting this cake. Try it and you will fall in love with it, too. There is no rating, which can do this recipe justice! Thanks for this masterpiece.
Crust

1⁄2 cup toasted pecans, cooled and crushed

2

cups chocolate Oreo cookie crumbs
1⁄4 cup sugar

6

tablespoons melted butter

Filling

2 1⁄4 lbs cream cheese, at room temp
1 2⁄3 cups sugar

5

eggs, at room temp

1

cup Baileys Original Irish Cream

1

tablespoon vanilla

1

cup semi-sweet chocolate chips

Coffee Cream Topping

1

cup chilled whipping cream

2

tablespoons sugar

1

teaspoon instant coffee powder
chocolate curls or Skor English toffee bit, for decoration on top
Crust:.
Mix all ingredients.
Press into a 10" spring form pan and up the sides one inch.
Bake at 325 for 7-10 minute.
Filling:.
Beat cream cheese with electric mixer until smooth.
Beat sugar in gradually, and then add eggs one at a time.
Blend in Bailey's and vanilla.
Sprinkle half of chocolate chips over crust.
Spoon in filling.
Sprinkle with remaining chocolate chips.
Bake at 325 degrees approximately 1 hour and 20 minutes or until puffed, springy in center and golden brown. Place a pan of water on bottom rack of oven while baking to keep it moist.
Cool cake completely.
Coffee Cream Topping:.
Beat all ingredients and spread over cooled cake.
Top with chocolate curls or Skor bits.
*NOTE: Be sure to make and refrigerate at least one day before serving.