A caramel and chocolate rimmed glass filled with Baileys and Butterscotch Schnapps!
Directions
Place topping and chocolate on separate plates.
Dip rims of 4 serving glasses in topping, then in chocolate.
Place on a tray lined with non-stick baking paper, rim-side down and refrigerate for 5 minutes or until set.
Combine Baileys and cream in separate jug.
Divide butterscotch schnapps evenly among serving glasses.
Top with ice.
Pour over combined Baileys and cream.
Serve immediately.
Reviews
Most Helpful
I changed this up a bit to use what I had on hand and also scaled it down to one serving...I used butterscotch schnapps, Baileys Caramel Irish Cream, milk and chocolate syrup. I put all of those ingredients into my Magic Bullet blender with a cup of ice and blended it all together until smooth. It's like an adult slurpee and tastes fabulous! Thanks for posting, Jewelies~ :-)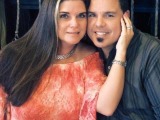 Delicious! I made a single serving, and since I am having camera issues tonight, I will try again to get a nice picture!! delightful combination of flavors (Butterscotch is just my fav anyway) and the rimming really does add an over the top garnish - I highly recommend when serving to guests! ;) Thanks for a fabulous keeper!

Very nice cocktail. Loved the combination of Bailey's and caramel. used Buttershots and 1/2 and 1/2 ;) Skipped the chocolate rim, but I'm sure if I were serving it to a friend I would include it! Loved this drink. Will definitely make again! Thanks for sharing. Cheers ~V