Baigan Bhartha (Eggplant /Aubergine)
Rita1652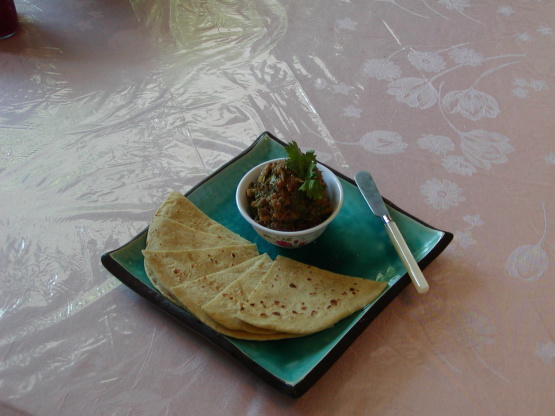 I found this on line. Changed a little bit. Enjoy this spicy, Indian vegetarian eggplant curry dish over rice or with Indian bread.

I liked this but my husband was not so keen. He thought the coriander leaves were overpowering, and I would suggest even for those who love them (and I imagine anyone making this recipe probably does) to begin perhaps with only half a cup; you can always add more to suit your taste if you so desire. Thanks for posting !
Prick a few holes and place on hot grill.
Keep turning until charred and soft inside.
Collect the pulp.
Discard the skin.
Chop roughly.
Heat Ghee or oil, add cumin seeds.
Add onions and fry till golden.
Add ginger and garlic.
Cook for 3 minutes.
Add the tomatoes, chillies, red chili powder, garam masala and salt.
Continue cooking 10 minutes on low flame until tomatoes are soft.
Add the eggplant pulp.
Stir and cook for 5 minutes.
Toss in peas and garnish with coriander leaves.
Serve with roti, naan, phulka, chapathi or paratha a flat bread.