Bahama Mama ( Non Alcoholic Punch )
Boomette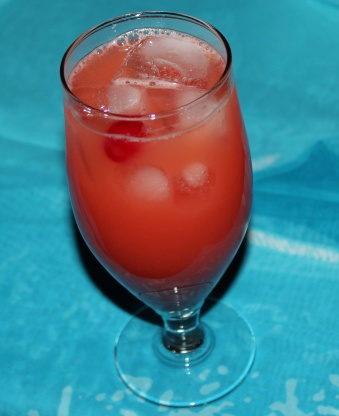 A nice blend of tropical flavors that will keep you cool. A taste of the Bahamas! This makes a large batch but can easily be scaled down.From Recipes from Friends. Ingredients in parenthises are scaled down to 1/4 of the recipe to make a smaller batch.
I made this non alcoholic punch for my son. But a small batch. I didn't tell him what was in it. He didn't like it. When I tell him there was grepefruit juice, he said that's why. I thought he wouldn't notice it. But we liked the taste a lot. Me and DH drank it but we added rum. Thanks Sharon :) Made for New Kids on the Block tag game
8

cups orange juice (2 cups)

8

cups pineapple juice (2 cups)

8

cups grapefruit juice (2 cups)

1

(12 ounce) bottle grenadine (3 ounces)

1

(10 ounce) jar maraschino cherries (2.5 ounces)

1

(2 liter) bottle Sprite (1/4 bottle-1/2 litre)
Mix all ingredients, except for cherries ( The more Grapefruit juice you add the more sour the punch will be. We like less Grapefruit juice), in large punch bowl.
When you place the punch into the cups place a cherry or two into the cup also.