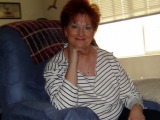 This isn't for kids, that's for sure! It's so tasty! Definitely for rum lovers! Found this on the web.
Ingredients
Nutrition
1⁄2 fluid ounce rum
1⁄2 fluid ounce coconut rum
1⁄2 fluid ounce grenadine

1

fluid ounce orange juice

1

fluid ounce pineapple juice

1

cup crushed ice
Directions
Combine the regular rum, rum with coconut flavoring, grenadine, orange juice, pineapple juice and crushed ice in an electric blender.
Blend until the drink's consistency is slushy.