Bagels With Smoked Salmon (Ww)
twissis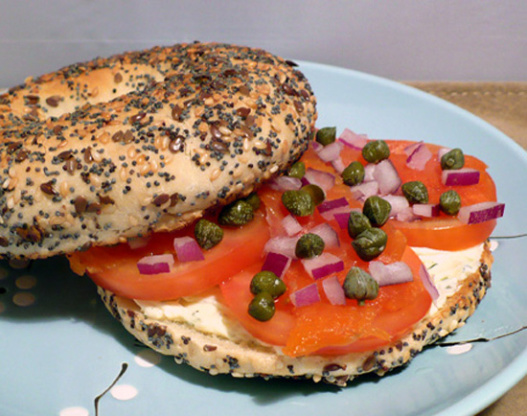 I love bagels with smoked salmon. This sounds like a great version. From Weight Watchers New 365 Day Menu Cookbook. Update: I've checked the original recipe - and it doesn't give the amount of cream cheese to use :roll:. So, I'm guessing that it uses 8-ounces.

This was a great breakfast. We didn't follow the directions exactly (to mix the green onions & dill in with the cream cheese) because not everybody wanted dill and green onion. So I put all the toppings out and let everybody put on whatever they wanted. As delicious as this was, I'm not sure about the diet/weight watchers appeal. According to my bagel package, EACH bagel is 4 oz and 310 calories. And the recipe doesn't list cream cheese in the ingredients - I think that we used between 100-200 calories worth of cream cheese on each serving. So the calorie count should be at least 500 per serving instead of the 126 listed in the nutrition facts.
In small bowl, combine cream cheese, scallions, dill and milk.
Spread one-fourth of the cheese mixture onto bottom half of each bagel.
Top cheese mixture evenly with tomato slices; drape 1 smoked salmon slice over each portion of tomatoes.
Top each portion of salmon with 1/2 teaspoon each of the onion and capers, then 1 remaining bagel half.
SERVING (1 SANDWICH) PROVIDES: 1/2 Vegetable, 1/2 Protein, 1 Bread, 25 Optional Calories.
PER SERVING: 121 Calories, 1 g Total Fat, 0 g Saturated Fat, 6 mg Cholesterol, 386 mg Sodium, 18 g Total Carbohydrate, 1 g Dietary Fiber, 9 g Protein, 89 mg Calcium; 2 points.