Prep 10 mins
Cook 10 mins

So easy to make and better then store bought croutons.
Directions
Preheat oven to 350°F.
Split/cut the bagels in half, cut each half in 12 pieces.
I a bowl combine the olive oil with the seasonings of your choice, add the bagel pieces and toss to coat.
Spread on a baking sheet, bake for 8 to 10 minutes or until golden brown.
Most Helpful
You can't see me, but I'm fanatically pressing the 5 star button.

Wow! I may never buy croutons again! This was so easy and really turned out flavorful. Using healthy olive oil is a plus too. I added garlic powder to my version. Thanks!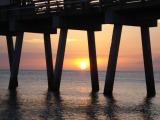 This is easy and really yummy. I used fresh thyme and garlic here. The croutons smell great cooking and we were eating them like popcorn before finally adding them to our salad! Definitely a recipe worth trying - thank you for sharing this treat!