3 Reviews
You can't see me, but I'm fanatically pressing the 5 star button.

Wow! I may never buy croutons again! This was so easy and really turned out flavorful. Using healthy olive oil is a plus too. I added garlic powder to my version. Thanks!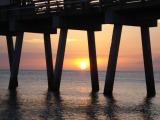 This is easy and really yummy. I used fresh thyme and garlic here. The croutons smell great cooking and we were eating them like popcorn before finally adding them to our salad! Definitely a recipe worth trying - thank you for sharing this treat!
Bagel Croutons