3 Reviews
mummamills made these for us today-they are really garlicky, crisp and good.

turned out perfect. heated the oil and garlic in the micro wave for 30 secs. didnt have creole seasoning, but I did spread some with sun dried tomato pesto. They were ok, but took longer to crisp, and I feel the plain ones were better. I make a version of Mirj's oven dried tomato, and next time I will use the oil from that :)

I like the method of heating the olive oil with the garlic in it. It smelled wildly garlicy in my house, but on the bagel itself, it was very subtle. I used the cajun seasoning on 1/2 the batch and "Tastefully Simple's" Spinach and Herb mix on the 2nd half. I plan on chopping half of the batch up to keep for croutons on salad. Thanks!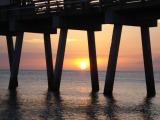 Bagel Chips