Redsie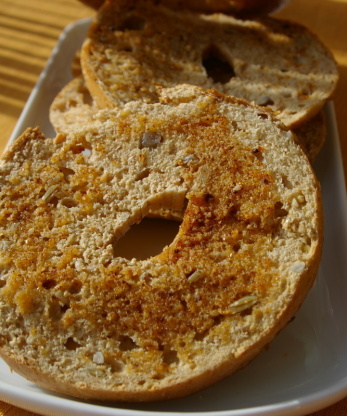 From Ricardo. You can add the spices you like!! :)
Yummy! I used 6 mini whole wheat bagels and upped everything to 4 T. canola oil, 1 tsp chili powder, 1/4 tsp cayenne, 1/4 tsp cumin, and 1/2 tsp paprika. I then sprinkled with seasoning salt. I was eating them as they came out of the oven without trying to burn my tongue. LOL! These were great! Thanks for the recipe, Redsie!
2

bagels (1 or 2 days old)

2

tablespoons olive oil

1

teaspoon spices, of your choosing (smoked paprika, chili powder, ground cumin, curry powder, cayenne, etc.)
With the rack in the middle position, preheat the oven to 180°C (350°F).
Set the bagels on a cutting board and slice them into very thin rings.
In a bowl, combine the oil and the spices.
Brush one side of the bagel slices with the oil and transfer to the cooking sheet. Season with salt. Bake for about 4 minutes until light golden brown. Let cool completely.
Store in an airtight container.