Debber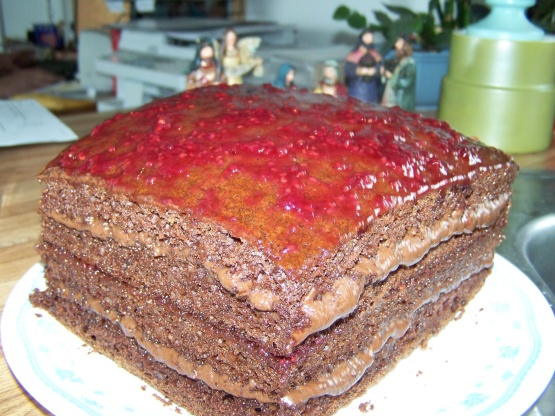 Add all dry ingredients in a bag instead of a bowl, add wet ingredients and pour into a pan. Or one bag instructions for a campfire cook with dutchoven. Great for camping! I would like to clarify pan size, you can use a 9 X 13 pan also. The 8 X 5 pan referred to in the recipe was very deep and I now realize that most ofpans are not as deep. My round cake pans are also deep and so you might have to use 3 regular round pans.

Top Review by Debber
QUICK to put together and the baked result is delish!!! I followed the recipe word for word, except I didn't mix in the bag....I used a bowl; also, I baked in a 9x13 pan (I can't imagine baking this in an 8x5 pan, there would be too much batter for a pan that small). I LOVED the way this cake rose so evenly; the top was smooth and only slightly cracked; nice crumb-texture inside, moist and firm shape, too. I cut my 13x9 cake in half, then split each half horizontally to frost with a chocolate ganache using some melting chocolate left over from our Christmas baking expedition.... The middle layer and the very top, I spooned on some raspberry syrup mixed with a tsp of vanilla....in an Iron Chef manner, to soak into the cake. My quiet and reserved husband was taken aback by the delicious results, and gave it a thumb's-up which is equivalent to about 10 stars! Plus he's born and raised in Montana, so you KNOW this is a GREAT recipe! Made for *Comfort Cafe* Jan '10 QI is cocoa.
Put all bag ingredients in a gallon bag.
Shake, shake and shake.
Mix wet ingredients in a container or bowl.
Add to bag in two increments and shake the bag each time.
Spray Pam in a 8 X 5 pan or three round 8 inch cake pans. Round dutch oven can be used but should be sprayed with Pam or greased.
Preheat oven 350*.
Cook for approximately 25 minutes or until cake springs back up when touched in the middle and sides pull alway from the pan.
Cool about 10 minutes.
Frost with icing or serve plain with ice cream or whipped cream.