Nimz1466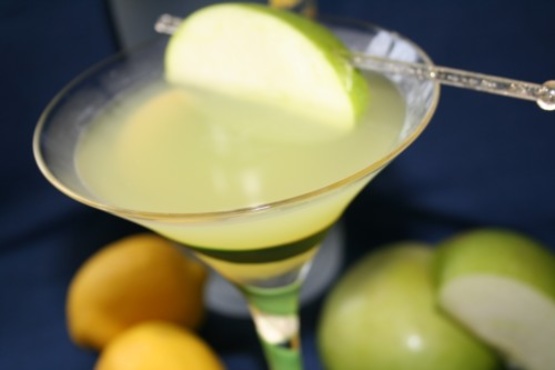 This as an alternative to the Apple Martinis and Sour Apple Martinis. It's a vodka cocktail flavored with fresh green apple. No neon-green syrupy schnapps, just pure, fresh ingredients. Enjoy!

I had this at a neighbor's house tonight, and being the Martini lovers that we are, we loved it! I agree with the other reviewer that it had an interesting texture. We decided it was a bit too tart, so suggest you cut down on the lemon juice or up the simple syrup. Also, definitely need the Grand Marnier or Cointreau listed as optional ingredients. It reminded me of a lemon drop martini with apple.
Blend ingredients, without ice, until apple is pureéd smooth.
Shake this mixture with ice and strain into a chilled cocktail glass. Splash with optional Grand Marnier or Cointreau.
Garnish with a slice of green apple.