Shanellp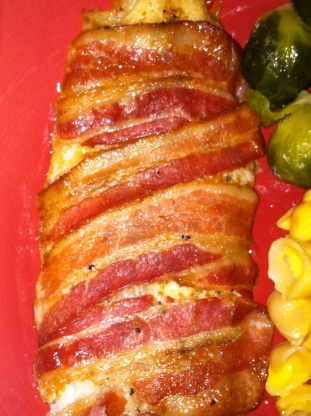 I found this recipe online when I was looking for something to do with my Swai fillets. Swai is similar to catfish with its white flesh, but has a milder flavor and more delicate texture. The recipe came from Milk & Honey Naturals. The fish stayed nice and tender (not dry at all) and the broiling at the end crisped up the bacon nicely.

Great recipe, so simple. I used Old Bay seasoning. Thanks!
2

swai fish fillets
1⁄4 teaspoon Italian herb seasoning

6 -8

slices thin cut bacon
Preheat oven to 400.
Liberally grease a baking sheet or line with foil.
I lined mine with foil and it didn't stick to the foil at all.
Lightly sprinkle the fillets with the Italian seasoning.
Lay out 3-4 strips of uncooked bacon depending on how long your fillets are.
Lay a fillet on top of the bacon.
Wrap the bacon around the fillet so that there are few gaps between the slices.
I overlapped some of my slices-it was fine.
Repeat the process for the other fillet.
Bake at 400 for 30 minuets.
After the 30 minutes are up, broil on High for 1-3 minutes to crisp up the bacon.
Watch it carefully so the bacon doesn't burn.