Bacon Wrapped Steak Fries
rosie316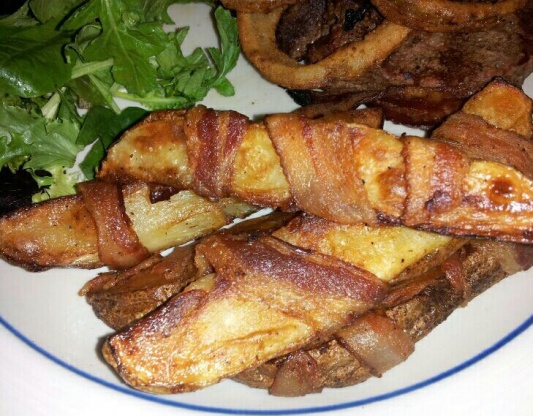 Easy to do and always a hit. These are great to serve either as a snack along with your favorite frosty beverage, or as a side to a good steak. Butt Kickin' Blacken contains neither salt nor sugar and is available at www.capnrons.com?id=rz. Most other blacken seasonings contain a lot of slat and you will have to adjust this recipe accordingly.
I made these last night, and they went wonderfully with our dinner. I did make 2 alterations... I did not use 1 tbls of Cajun seasoning, because the brand I have is hotter than he!!. I used about 1 1/2 tsps which was plenty (we could still taste the potatoes and bacon). I did need to make them on my grill (our oven is still broken), but I prepared them as directed and used a sheet pan over indirect heat at 425*. I let them bake for 20 mins before removing them to wrap with the bacon strips (not so easy to do when they are so hot). Some did stick to the pan, even with all the oil added before baking. (I will spray the pan next time). At the 20 minute point (being turned once at 10 mins), and they were pretty much already done. (My wedges were very thick because I only made 6 out of each potato). I ate one before wrapping! I wrapped the split bacon around them and started baking again. I knew it would take longer than 10-15 mins to crisp because I make bacon in my oven all the time, and it took roughly 20-25 mins for these to crisp and they did need to be turned. I was afraid that the steak fries would be dried out, but they were not. We really did enjoy these. I served them with Recipe #98551 and a arugula salad. I would suggest that you be careful of how much Cajun seasoning you are going to use, and guess a longer cooking time for the bacon to crisp and just keep an eye on them. I will make these again, and probably wrap them at the 10 min mark. But they were tasty even before I wrapped them, so I may even make them without the bacon. Thank you for posting your recipe. (Made for Name That Ingredient tag)
2

large baking potatoes

2

tablespoons vegetable oil

1

tablespoon cajun seasoning, Butt Kickin' Blacken, Southwest Blend

1

teaspoon salt

8

slices bacon, thin sliced
Preheat oven to 450°F.
Wash then slice the potatoes, lengthwise, into 8 long strips.
Place them in salted water, to cover, for at least 15 minutes. This will remove the surface starch.
Dry, then coat well with oil, Butt Kickin' Blacken, and salt.
Place on a sheet pan.
Bake at 450 for 20 - 25 minutes, or until they get a little soft, and begin to brown.
Cut each piece of bacon into 2 long strips, and wrap around the potatoes. You won't need toothpicks if you tuck the ends under the potatoes when you place them back in the pan.
Place back in the oven and cook for another 10 - 15 minutes, or, until the bacon looks crispy.
Serve immediately with "Bacon Sour Cream". (Sour Cream that you've added cooked, ground bacon).