diner524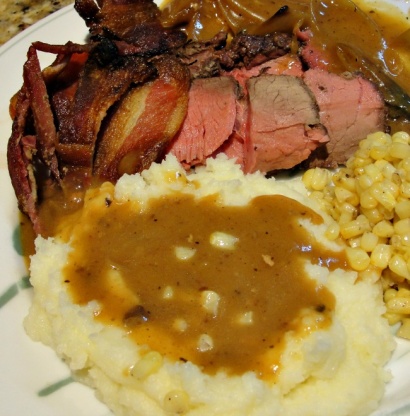 If you have never had a roast wrapped in bacon...you are in for a treat...very tasty and very moist...

Top Review by KeyWee
Just finished this great roast and it was positively delicious! I had a smaller roast, too (about 1-1/2 pounds) so roasted for 1-1/4 hours - perfect! Served with herb roasted potatoes and onions, and broccoli - a great Sunday night dinner! Thanks, BK!
Preheat oven to 325 degrees Cut a few slits on top of roast to allow bacon to flavour meat.
Spread mustard evenly all over roast.
Sprinkle with thyme.
Place roast in pan and wrap bacon around meat tightly.
(on top and sides) Bake at 325 degrees for 1 3/4- 2 hours Add onions to roast 40 minutes before finishing time.
Remove roast from oven to carving board and let sit for 15 min before slicing.
Serve with onions, bacon slices and gravy-- enjoy.