Bacon-Wrapped Shrimp With Quick Bearnaise Sauce
Peter J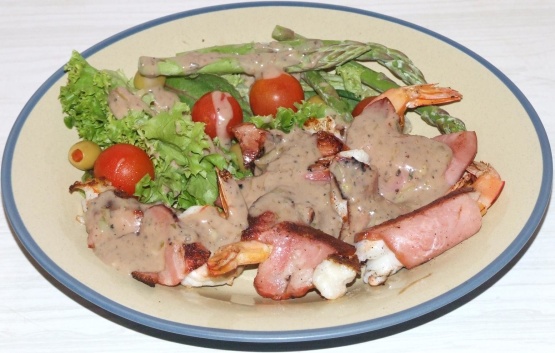 These are fabulous! Very easy to prepare and impressive for a romantic dinner or company! You can grill these or cook them under the broiler.

Really enjoyed this one and was nice and easy to prepare. Rather than eat as an entree I used half the recipe for lunch along with some mesclun, asparagus, olives and cherry tomatoes. I didn't have any red wine vinegar so used Balsamic, although it was only a commercial grade so probably mainly red wine vinegar anyway. One thing I think was an error in the recipe was that it said to use eight slices of bacon cut into thirds which would have yielded 24 slices, I only used the main mean portion of the bacon so thirds would have been too small anyway so cut them in half. I used Tasmanian Tiger Prawns on a medium to hot BBQ using direct heat, I assumed the lower cooking time of the prawns would allow them to cook through the indirect heat of the bacon and it worked well. The Bearnaise sauce was also very nice for such a quick way to prepare and I might try in the future on other kinds of meat.
For the béarnaise sauce: Combine the mayonnaise, shallots, tarragon, vinegar and pepper in a small bowl.
Cover and let stand at room temperature to blend the flavors, at least 1 hour.
Wrap a bacon strip around each shrimp, securing the bacon with a toothpick.
Broil: 5 minutes until bacon starts to crisp.
Turn shrimp and broil another few minutes until bacon is crisp all the way, remove and drain on paper towels.
Keep shrimp warm.
Or For Barbeque: Prepare barbecue (medium-high heat).
Brush grill rack lightly with oil.
Grill, covered, turning once, until the bacon is crisp and the shrimp is firm, about 8 minute.
Remove toothpicks and serve immediately with the sauce.