Bacon-Wrapped Rosemary Chicken
Calee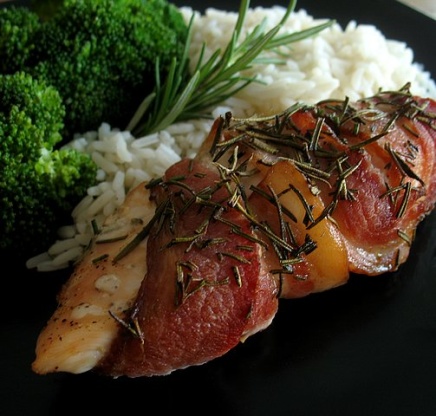 Discovered this recipe years ago and is a family favorite. It is a great recipe for beginning cooks because it is very easy with tasty results! For a variation, try other herbs rather than rosemary such as sage, tarragon or thyme.

My family liked this recipe. I might substitute a different spice for the rosemary. This is just a family preference.
Heat the oven to 425°F.
Cut chicken breasts into 4-6 ounce pieces.
Sprinkle the chicken with salt and pepper.
Wrap a slice of bacon around each piece of chicken and place in baking dish.
Sprinkle with rosemary.
Roast for 15 minutes at 425°F.
Reduce heat to 375°F and continue roasting until done. It won't take long--be careful not to over cook chicken (chicken is done when juices run clear when pierced).